About the Workshop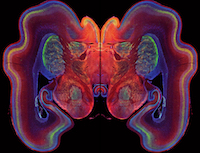 The brain is the most complex organ that arose in evolution, formed by an intricate network of hundreds of neuronal and glial cell types properly wired for information processing. It is becoming clear that the specification, maintenance and function of these cell types relies on defined gene regulatory programs organized by epigenetic mechanisms, transcription factors, their regulatory co-factors and non-coding transcripts. In recent year, impressive development and new technologies have allowed interrogation of these mechanisms at new scales and resolution including the use of organoids, single-cell assessment of transcriptomes and epigenomes, and advancements in systems and computational neuroscience, among others. These approaches are beginning to provide new dimensions to our understanding of neural stem cell fate decision in brain evolutions, development and function and how these mechanisms go awry in certain disorders. This EMBO Workshop will capitalize on these recent developments and new approaches to provide a forum to present and discuss the latest exciting findings in deciphering the molecular mechanisms underlying neural stem cell fate choices, their intertwined epigenetics and transcriptional molecular logic and approaches to restore their function when these mechanisms fail.

About EMBO Courses and Workshops
EMBO Courses and Workshops are selected for their excellent scientific quality and timelines, provision of good networking activities for all participants and speaker gender diversity (at least 40% of speakers must be from the underrepresented gender).
Organisers are encouraged to implement measures to make the meeting environmentally more sustainable.