About the Practical Course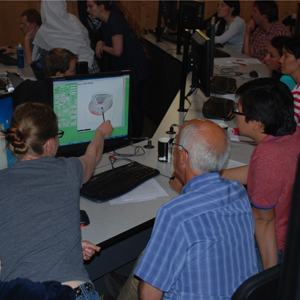 Currently, novel experimental techniques within the field of developmental biology generate large sets of high quality temporal and spatial data at the genetic, molecular, subcellular, cellular and tissue level. Understanding how the imaged processes are regulated, how mechanisms emerge from the different entangled levels and how the organism "makes itself" and has evolved to do so, requires an integrated, systems biology approach.
The multi-level nature and non-linear feedbacks involved in biological development render mathematics and multi-level modelling essential. Still, the theoretical basis to deal with such complexity is not contained in a single specialised text book or training programme. Hence, confusion prevails on how theoretical models can be implemented and should be interpreted.
This EMBO Practical Course tackles these issues and will provide both the theoretical background and the hands-on tools needed to enter this rapidly growing area. It will incorporate novel concepts and leading-edge techniques that keep up with the computational and experimental innovations of the last two years.
Course objectives:
In-depth teaching and demonstrations of leading edge computational and mathematical foundations for multi-level modelling of processes in developmental biology.
Transfer knowledge on dealing with the complexity of multi-level biological processes; how to design and optimise models; how scientifically sound conclusions can be drawn, and the pitfalls involved.
Compare and contrast the diverse model formalisms currently used for multi-level modelling, emphasising their relationship to the biological questions asked.
Dissect biophysical processes at different levels of development: from molecular, subcellular and cellular to multicellular and organism level, including how the different levels impact one another.
Discover (through lectures, computational exercises and lab experiments) the diverse developmental constraints involved in biological morphogenesis, such as biomechanics and information processing up to evolutionary mechanisms driving developmental innovations.
Explore how multiple mechanisms can act together to generate unexpected, biologically relevant behaviour.
Challenge participants to consider the nature of their research and the relationship between models and experiments within a well-formulated epistemological debate.
Stimulate participants from diverse scientific backgrounds to interact and communicate across multifaceted barriers.
Reveal how studying morphogenesis in animals and plants may require very different modelling strategies, but still can uncover common guiding principles.

About EMBO Courses and Workshops
EMBO Courses and Workshops are selected for their excellent scientific quality and timelines, provision of good networking activities for all participants and speaker gender diversity (at least 40% of speakers must be from the underrepresented gender).
Organisers are encouraged to implement measures to make the meeting environmentally more sustainable.