About the Workshop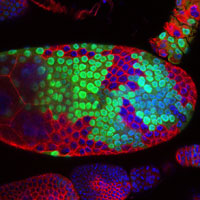 The study of developmental signals, such as the Hedgehog and Wnt pathways has led to major leaps in our understanding of stem cell function, normal physiology and disease. The relatively recent discovery of the Hippo pathway and its transcriptional targets YAP/TAZ/Yki as regulators of tissue size has generated a vast amount of interest. It has become increasingly clear that Hippo/YAP signaling is crucial to stem cell behavior, tissue regeneration, as well as numerous cell fate decisions during development.
Rather than a pathway defined by a single ligand family, Hippo/YAP signaling appears to sit at the interface between diverse inputs such as cell-cell contacts, polarity, mechanical forces and metabolism. Furthermore, YAP is a key determinant of tumor cell growth and drug resistance, suggesting that a better understanding of Hippo signaling is of paramount importance to future cancer therapy. This EMBO Workshop will cover the multi-faceted aspects of YAP/TAZ regulation and biological outputs, as well as explore potential therapeutic strategies for cancer and regenerative medicine.
In addition to an outstanding roster of plenary talks and two poster sessions, 10 applicants will be selected from abstracts to present their work as short oral presentations (15 min) and 30 applicants (students and postdocs) will be selected for "micro-talks" (3 min, 2 slides).

About EMBO Courses and Workshops
EMBO Courses and Workshops are selected for their excellent scientific quality and timelines, provision of good networking activities for all participants and speaker gender diversity (at least 40% of speakers must be from the underrepresented gender).
Organisers are encouraged to implement measures to make the meeting environmentally more sustainable.