About the Conference
Autophagy has long been recognized as a central mechanism to maintain quality control in cells, to adapt to stress, and to recycle building blocks for the synthesis of new cellular components under conditions of energy restrictions. As such autophagy and its regulation is of crucial importance for health and disease in a highly contextual manner.
This EMBO Conference will concentrate on recent findings on molecular mechanisms, their impact on human diseases as well as their potential as therapeutic targets.
Co-organizing institution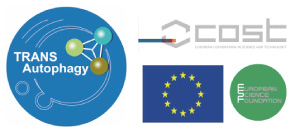 About EMBO Courses and Workshops
EMBO Courses and Workshops are selected for their excellent scientific quality and timelines, provision of good networking activities for all participants and speaker gender diversity (at least 40% of speakers must be from the underrepresented gender).
Organisers are encouraged to implement measures to make the meeting environmentally more sustainable.